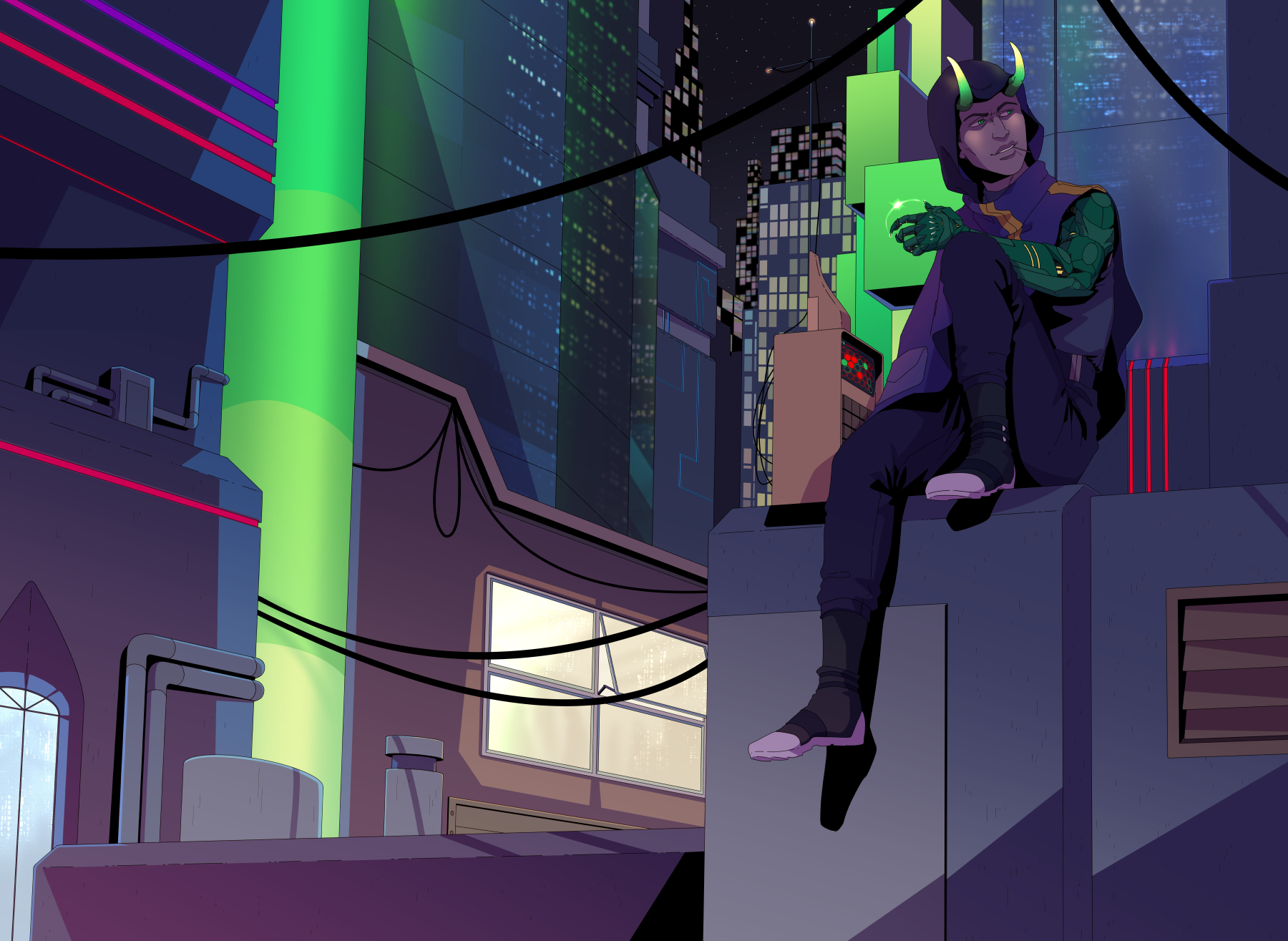 Ascendancy
5 years ago, the empire ruling the world fell - and now everyone is trying to pick up the pieces. You were created to be the empire's perfect weapons, but your masters are dead.
You're free.
Free to find yourself, free to fight for the cause you believe in, and free to discover what you're truly capable of.
--
Ascendancy is a Sparked by Resistance TTRPG for 3-5 players, set in a cyberpunk city in a distant future, after the empire that ruled the world for centuries has fallen. You play as Ascended, psychic cyborgs given extraordinary powers by the empire, and forced to act as their weapons. But now that they're gone, the Ascended are scattered - scared, confused, and lost. Some of them are right back to being used as weapons again, but not you - you're there to help them. Your team of Ascended will try to save the others who are being controlled, try to stop factions that have only their own selfish aims in mind, and try to find who you actually are during all this chaos.
The mechanics of the Resistance Toolbox make it so that nothing in Ascendency stays the same for too long, and that includes the players themselves. Using the unique Title and Expectation mechanics, you will slowly change over the course of the game, and your abilities and powers will change with it as you grow and discover more and more of your true self - even if it takes you a while to get there.
The game features 9 unique playbooks, called IDs. You pick two at character creation, which help to shape not just your powers, but the way you grow and change.
The T-Type controls time, being one step ahead of the opposition, and making careful and quick adjustments to the timeline to keep everything flowing smoothly.
The C-Type controls abstract concepts, transforming meaning and words into form and strength.
The G-Type controls machinery and computers, allowing them to manipulate the city at a degree no one else can.
The M-Type controls their own memory, shattering their own past to empower themselves and turning past into present.
The S-Type controls their identity, shifting between adopted selves and appearances seamlessly.
The P-Type shifts their power with their title, supporting their allies, and changing every aspect of themself as they grow.
The A-Type is a machine meant to imitate an Ascended, slowly breaking away from the orders and laws they were given.
The D-Type can process and understand data and blueprints, and are capable of instantly reproducing any scanned object.
The W-Type controls the Ascended's powers, able to convert them into Corestones, which grant that power to anyone who holds it.
The O-Type controls the field, supporting their allies from a distance, shouldering both their successes and failures on their shoulders.
The L-Type is connected to another person, drawing power from one another as they stand together.
--
If you are trans and can't afford a copy of the game, DM me (@ironsparksyris on Twitter) and I'll give you a download code, free of charge.
If you want to discuss the game, find a group to play with you, or just ask some questions about it, there is an official Discord here: https://discord.gg/9sg8cfF
The awesome cover art is by Charlie C, you can find them @itscharlienow on Twitter.
The game's logo is by Sorbet, you can find him @sorbetdraws on Twitter.

The layout is by Vee Hendro, you can find her work at https://veerpgdesigns.com/.
The game itself is by Ruby Soleil-Raine, you can find her @ironsparksyris on Twitter.
Purchase
In order to download this TTRPG you must purchase it at or above the minimum price of $25 USD. You will get access to the following files:
All Ascendancy Art.zip
180 MB
Download demo
Comments
Log in with itch.io to leave a comment.
Great game!
Really love the ideias and system.
Is bookmarking the PDF in the horizon? :)
Ascendancy is one of my favourite TTRPGs out there. Until I played it, I had never played a game that can at once perfectly capture the deeply interpersonal, techno-mystical vibes of Symphogear, the over the top urban epic fantasy of Kekkai Sensen, and the quiet, dark, moody rain drenched cyberpunk of Blade Runner, all within the same session. I also never realised that that was the exact sort of game I had been desperately wanting.


A deeply meaningful game about rebellion, self-acceptance, and finding identity as an adult in an adult world, Ascendancy is a game that should be on everyone's radars.
The best psychic anime cyberpunk RPG on the market right now. Period. There's something explosive and free about Ascendency that screams "a straight cis dude did not write this, roll with it or die". Where most cyberpunk games are content to weakly imitate William Gibson, Ascendancy is a breath of fresh air blasted upside your head with hurricane force.